No coding required.
Use your Magic Touch addon almost anywhere on your PrestaShop site.
You can even apply different zoom options to each page or block.
Relied upon by PrestaShop store owners, Magic Touch has been the professional choice since 2009 for pioneering deep zoom effects.
This official PrestaShop addon makes it easy to apply these effects to your pages. Even better - the addon gives you auto-caching, image resizing and SEO optimization as part of the dedicated PrestaShop features.
With free new versions regularly released, your products will always look gorgeous with Magic Touch.
Key features
Live demos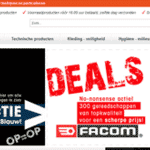 Klium
Screenshots
Installation
Download the PrestaShop module for Magic Touch (no longer available to new customers)
Either upload it via your PrestaShop admin area. Or unzip the file on your computer and FTP the magictouch folder to the

/modules/ directory of your store, keeping the file and folder structure intact.

Activate the module via the Modules menu Modules > Other Modules > Install.
Enter your Magic Touch key on the module configuration page. To get your ID, login to your Magic Touch account.
That's all!
Customize Magic Touch as you wish.
Magic Touch can be enabled on any page or section you choose.
Multiple images
Swapping between many images is already a standard feature in Magic Touch. But if you have lots of images, the page can look complicated.
Make your thumbnails look slick and organised with Magic Scroll for PrestaShop. It neatly contains the images adds arrows to slide between them. Example:
Simply activate Magic Scroll on the Magic Touch options page.
To remove the "Please upgrade" text, buy a license and overwrite the

/modules/magiczoomplus/views/js/magicscroll.js

file with that from your licensed version.
Uninstallation
Thanks for trying Magic Touch on your PrestaShop site! What did you hope Magic Touch could do? How can we improve it? Let us know, we're always improving our tools based on customer feedback.
Deactivate Magic Touch via the

Modules and Services > Module and Services > Other Modules > Uninstall

.
Delete Magic Touch via the

Modules and Services > Module and Services > Other Modules > Delete

.
Magic Touch is now uninstalled.
---
Other PrestaShop modules
Try our other great image effects!
This image zoom module was created for PrestaShop, the open source ecommerce software. It fetches your large images, cuts them into small tiles, then serves them. This means the image zoom can be as fast as possible.