Use it anywhere!

Product details page
Home page
New products block
Specials block
Featured block
Manual install elsewhere
Features you'll love...
Responsive
Fast
Built with SEO in mind
Image caching
Easily customisable
Automatically resizes images
Scrollable thumbnails
All templates supported
Instant watermarks for images
On-demand loading
Constantly updated
no jQuery required
Single payment and it's your forever
Zen-Cart 1.5.x series
Zen-Cart 1.3.x series
Nothing attracts a customer's attention like a gorgeous slideshow. The thing is, the human brain always reacts to movement.
Use this little fact to your advantage - try the awesome Magic Slideshow module for Zen Cart. It's a fast, responsive slideshow with 14 flexible slide effects to wow your visitors.
Beautiful slideshows in under 5 minutes. Simply install the Zen Cart image slideshow extension, upload your images, add a description and that's all.
Use it almost anywhere on your store - Product details page slideshows, Home page slideshows, New products block, Specials block or the Featured block.
Magic Slideshow is a responsive JavaScript slideshow script, designed for Zen Cart. It will fit any screen and has over 20 options for controlling the effects, design and speed. It supports swipe gestures on touch-screen devices and includes an incredible full-screen view.
Bring your store to life - download the best Zen Cart slider plugin now.
Live demos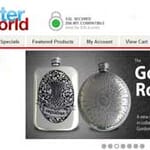 Pewter World
Installation
Download Magic Slideshow for Zen Cart (free and fully functional demo version).
Unzip the file on your computer and FTP the

magicslideshow

folder to your Zen Cart directory (on your server), keeping the file and folder structure intact.
Go to

http://www.yoursite.url/magicslideshow/

in your browser > click 'Install' > click 'Continue' (replace yoursite.url with your domain name).
The demo version is now installed!
Go to

[Admin panel > Magic Toolbox > Magic Slideshow]

and configure Magic Slideshow how you want it.
Buy Magic Slideshow To upgrade your free and fully functional trial version of Magic Slideshow (which removes the "Trial version" text), buy Magic Slideshow and overwrite following file with the same one from your licensed version:

includes/templates/YOUR-TEMPLATE-FOLDER/jscript/magicslideshow.js
Setup a slideshow
The module lets you add Magic Slideshow to:
To create a slideshow, go to [Admin panel > Magic Toolbox > Magic Slideshow].
Then choose one of these options:
Use effect for 'Featured products' block
Use effect for 'Specials' block
Use effect for 'Whats new' block
Use effect for product page
Then choose your settings.
Home page slideshow
Add an amazing slideshow to your homepage in just a couple of clicks:
Enable Home page Slideshow section.
Select Upload images and browse your computer for your set of slideshow images.
Your slideshow is now working!
To set a specific slideshow size, change Slideshow width (pixels) and Slideshow height (pixels) options.
Enjoy over 30 slideshow customizations. Try them all and see which works best for your site.
Uninstallation
Thanks for trying Magic Slideshow on your Zen Cart site! What did you hope Magic Slideshow could do? How can we improve it? Let us know, we're always improving our tools based on customer feedback.
Go to http://yoursite.url/magicslideshow/ in your browser and click 'Uninstall' (replace yoursite.url with your domain name).
Delete the

magicslideshow

folder from your Zen Cart directory (on your server).
Magic Slideshow is now uninstalled.
Customer reviews
Rating: 5.0 (1 reviews)
Magic SlideShow
I've been using the Magic SlideShow for several years now and it's been performing well. When I upgraded my website I received free support to get it working on the new website. I was extremely impressed and of course very happy with the result.
Davo, wormsrus.com.au
Submit your review
---
Thank you!
Your review has been received and will be posted soon.
Used only to verify your review is genuine.
---
Other Zen Cart plugins
Try our other great image effects!