Product images are a crucial part of all Bigcommerce stores. The better the images, the more likely users are to buy.
That's why we created this Bigcommerce image zoom. This app enriches every image gallery, thanks to its twin effects. Choose 4 effects from external zoom, internal zoom, magnifier and the stunning full-screen view.
All Bigcommerce product thumbnails appear under the main image, for easy browsing. It's easy to use for any visitor.
Make your Bigcommerce product images look better than ever today. What's more, if your theme isn't supported yet, we'll add support for it within 48 hours!
Verified by Bigcommerce:
Read reviews of Magic Zoom Plus on the official marketplace for Bigcommerce apps.
Features you'll love
Multiple locations
Display image zooms on your category pages as well as your product pages. Each section can have different options to suit your site design. Point and click to choose the settings you wish.
Works faster
Instantly enjoy the gorgeous zoom on hover or click. Swap thumbnails on hover too. It's fast and smooth but might prefer to save bandwidth and apply image loading on demand.
Works on any theme
This BigCommerce image zoom app can work on any theme. Sometimes a small manual change is required by our tech support team, especially for Stencil themes. Just email our support team with a login to your BigCommerce admin and they'll finish the installation.
Always being improved
Get free upgrades when new versions are released. Magic Zoom Plus is the only JavaScript image zoom app to be constantly improved for more then 10 years.
Live demos
Installation
Install Magic Zoom Plus directly from Bigcommerce Marketplace!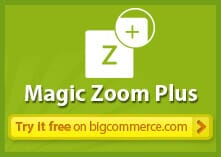 Log in to Bigcommerce admin panel.
Go to: Dashboard > Apps > Marketplace.
Search 'Magic Zoom Plus' > Click the app.
Click 'Install'.
Click 'Confirm' to install Magic Zoom Plus on your website.
Enter WebDAV settings to complete installation.
a) Go to: Settings > File Access (WebDAV) > Copy the WebDAV Path.
b) Go to: Apps > Magic Zoom Plus > 'App settings' tab > Paste it in the WebDAV Path field.
a) Return to the File Access (WebDAV) page > Copy the Username/Email.
b) Return to Apps > Magic Zoom Plus > 'App settings' tab > Paste it in the WebDAV Username/Email field.
a) Go back to the File Access (WebDAV) page > Copy the WebDAV Password using the 'Copy to Clipboard'.
b) Go back to Apps > Magic Zoom Plus > 'App settings' tab > Paste it in the WebDAV Password field.
Click 'Install app'.
The demo version is now installed! (If your Theme isn't automatically supported, email us for help)
Your theme
Bigcommerce uses Stencil as its default theme framework. If Magic Zoom Plus doesn't work immediately on your store, we'll resolve it:
Add support@magictoolbox.com as a user in your Bigcommerce account.
Email us to say you'd like us to add support for your theme.
We'll complete Magic Zoom Plus installation within 48 hours (free of charge) and email you the good news.
Upgrade
Magic Zoom Plus is free to try for 30 days. To remove the 'Trial version' message, simply:
Buy your license here (pay by card or PayPal).
Copy your

License Key

, displayed after payment is complete.
Go to your Bigcommerce Magic Zoom Plus settings page (

Dashboard > Apps > Magic Zoom Plus

) and click the

Upgrade

tab.
Refresh your product page. The 'Trial version' text will disappear (if it doesn't, message us and we'll fix it.)
Video tutorial
Add 360 spins
Combine 360-degree spins & zoom/enlarge effects on the same product page. Thanks to our 360 spin service Sirv, it's easy to add stunning product spins to escalate your Bigcommerce sales.
Install the Magic Zoom Plus app.
Create your Sirv account.
Create a new folder in your Sirv account called

products

.
Open the

products

folder and create another new folder. Name it to match the

product number

in Bigcommerce, or some other unique Bigcommerce field such as

product title

.
Upload your set of product images to the new folder and a 360 spin will be generated.
Enter your

Sirv subdomain

(shown on your account page) on your Magic Zoom Plus app settings page. Click

Save Settings

.
The 360 spin will now appear next to the other product images (you may need to refresh the page). If you need help, contact our support team.
Product options
Do your products come in different colours or styles?
Product options are perfect for showing customers a variety of images.
If you're using the new Stencil theme and want to assign different images to option values, get in touch and we'll help you.
For customers using old themes, Magic Zoom Plus supports Bigcommerce product options out of the box.
Uninstallation
Thanks for trying Magic Zoom Plus on your Bigcommerce site! What did you hope Magic Zoom Plus could do? How can we improve it? Let us know, we're always improving our tools based on customer feedback.
Log in to your Bigcommerce admin panel.
Click Magic Zoom Plus logo on left hand side.
Click 'Uninstall' tab > Click 'Uninstall app' button.
Click 'Apps' > 'My apps' > Magic Zoom Plus > Click 'Uninstall'.
Magic Zoom Plus is now uninstalled.
Customer reviews
Rating: 5.0 (16 reviews)

Mar 82018

Awesome

Great tool and great customer service

Carlos, pintoranch.com

Jan 182018

Amazing

this is a great app! the customer service were amazing to work with, they took care of all our issues within few hours.
thank you !

Michel, feltmanbrothers.com

Nov 212017

This Is A Must Have for Every Big Commerce Store!!!!

We recently just switched to Stencil, which has been great in terms of page speed! Our overall e-comm CVRs have seen an increase, except mobile which seemed to decline. After investigating the issue we then found out about The Cornerstone mobile product page glitch/issue. That was a deal breaker definitely, as we had to scale back mobile spend in PPC which is a huge factor in driving traffic and sales for us.

We installed the MagicZoom app and Viola! issue gone! The team is very responsive (especially Igor) and this app just makes the site on mobile 100x more mobile friendly (not even counting the mobile issue). I would recommend this app and company to anyone who is dedicated to improving performance on their Big Commerce platform.

Thank you Magic Zoom & Thank you Igor for your awesome APP!


Kate, contourliving.com

Oct 42017

Awesome!

Awesome! Igor even took care of a glitch after hours.

Carrie

Aug 312017

Great product

Awesome product and great customer service response time

Kiki, covelineswim.com
Submit your review
---
Thank you!
Your review has been received and will be posted soon.

Used only to verify your review is genuine.
---
Other Bigcommerce apps
Try our other great image effects!
---
These instructions are for BigCommerce. Use them to add effects to your website including image zoom on hover/mouseover; image lightbox (enlarge image to full screen); image slideshows in JavaScript; image carousels; and image magnifiers.